FELIX CHOPIN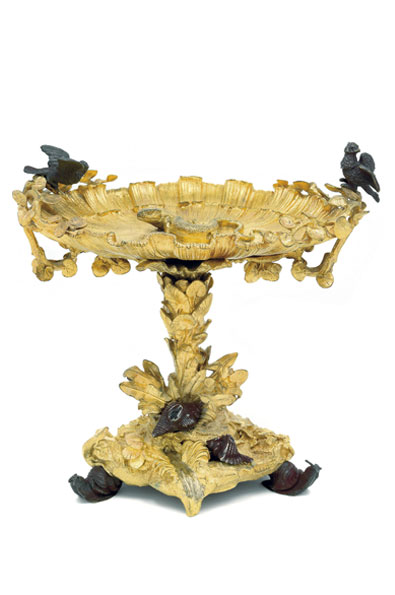 FELIX CHOPIN
(1813 - Paris - 1892)
TAZZA, St. Petersburg, circa 1840/45
Bronze, vergoldet, teilweise versilbert, dunkel patiniert.
Höhe 25 cm - Tazza 25 x 17,5 cm
Naturalistische Gestaltung in Form einer Erdscholle mit Blättern, Wasserstürzen und Meeresschnecken. Füße in Form zweier Meeresschnecken, floraler Schaft, Schale mit Eidechse, seitlich zwei Vögel.
Die ungewöhnliche, wohl singuläre Tazza hat Formen und Motive einer Brunnenschale. Alle Teile sind durch bewegte und belebte Motive gestaltet, die virtuos im äußersten Naturalismus bewegt dargestellt werden. Felix Chopin führte als Hoflieferant des Zaren einen beträchtlichen Teil der Bronzen für den kaiserlichen Hof aus. Für die Petershofer Inneneinrichtung im Stil des 2. Rokoko wurde auch die selten angewandte Verbindung von Vergoldung und Versilberung bei Bronzearbeiten häufig verwendet. Die Tazza gehört in die Frühzeit des Schaffens von Felix Chopin.
Gutachten von Prof. Hans Ottomeyer, Berlin vom 30.7.2011
Diese E-Mail-Adresse ist vor Spambots geschützt! Zur Anzeige muss JavaScript eingeschaltet sein!
Félix Chopin was the son of the Parisian fondeur Julien Chopin. After beginning his career in Paris he moved to St. Petersburg in 1838 and around 1841 acquired the workshop of Alexander Guérin which was on the verge of bankruptcy. A keen entrepreneur, Chopin soon revitalized the business by moving to new premises and employing new craftsman, however the real secret to his success was his keen eye that responded quickly to the slightest change in fashion. Chopin was for over forty years the principal supplier to the Russian Imperial Court and, despite his prodigious output, was so in demand that he risked currying disfavour by declining prestigious orders. Notable commissions included chandeliers and sconces for the Kremlin Palace in Moscow (1845-1849), chandeliers, clocks and candelabra for the Marble Palace in St. Petersburg (1849), the Tsarevich's personal palace in Peterhof (1850) and the palace of Grand Duke Nikolai Nikolaevich (1855-1886). At the Paris Exposition Universelle of 1878 he presented a Louis XVI style bronze and malachite console table and various ormolu objets d'art.
Detailed report by Prof. Hans Ottomeyer, Berlin who dates the Tazza as an early work of Chopin's artistic output